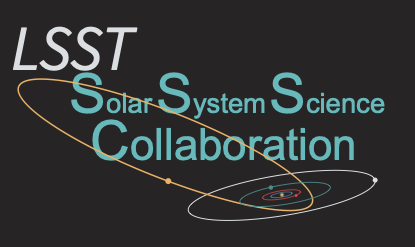 SSSC Membership and How to Join the SSSC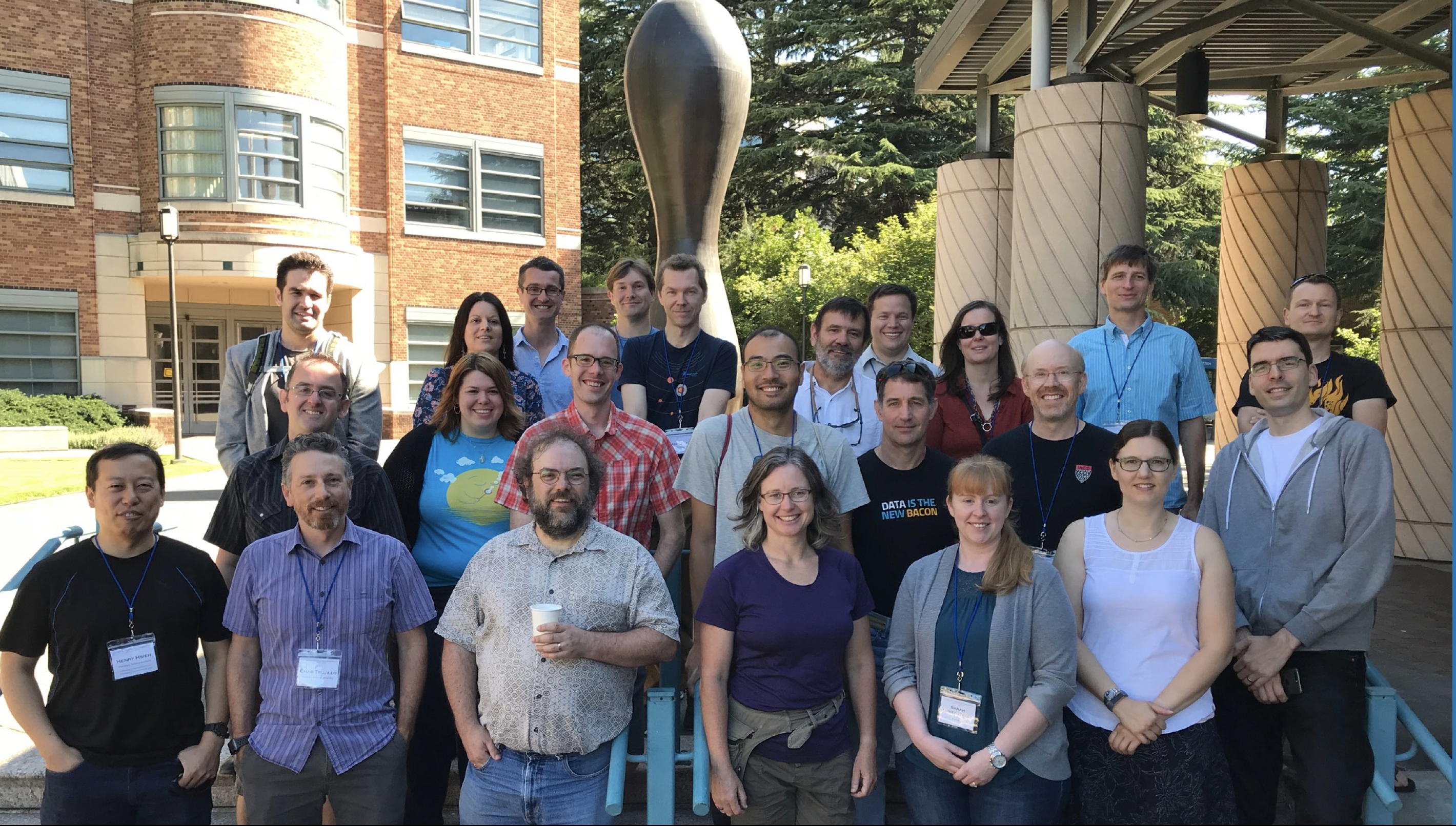 Photo from the 2018 LSST Solar System Readiness Sprint at the University of Washington, Seattle
The LSST Solar System Science Collaboration (SSSC) accepts applications from astronomers and planetary scientists who have data access rights to LSST data (example 1: a scientist based in countries with LSST data rights (US or Chile); example 2: a scientist who is part of an institution or organization that has data access for their members (like LSST: UK)).
Applications to become members of the LSST SSSC can be filled out on the membership application form. Applying to become a member is a short process, and the chairs of the SSSC will get back to you promptly. Our current guidelines on membership are focused on building community involvement. Researchers, at any career level, who can identify areas of interest they wish to pursue that are relevant to LSST Solar System science and are LSST data rights holders will be granted membership. All SSSC members have voting rights and access to future collaboration-generated proprietary data products and tools. Additionally, all SSSC members are expected to abide by the SSSC Code of Conduct, the SSSC Publication Policy, and the SSSC Charter.
If you have any questions or concerns about the application process please contact Meg Schwamb and David Trilling (LSST SSSC co-chairs).
If you are working on a Rubin Observatory international in-kind contribution proposal, please contact Meg Schwamb and David Trilling (LSST SSSC co-chairs) to discuss potential observer status within the SSSC while you are developing your proposal.
Information Resources For SSSC Members and Non-Members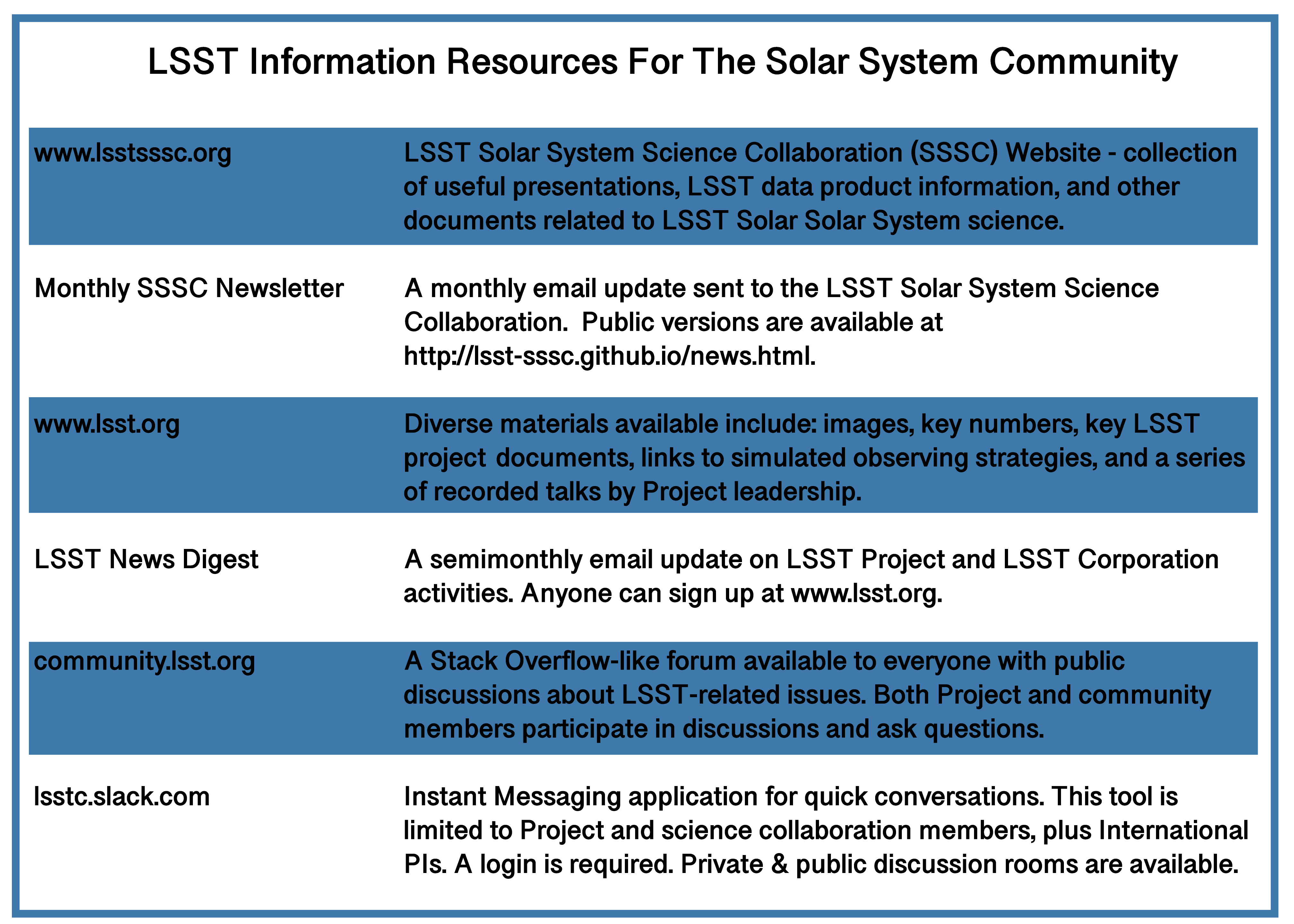 Public List of SSSC Members:
Agata Rożek
Alan Jackson
Allan Jackson
Anatoliy Ivantsov
Antonio Vanzanella
Apostolos Christou
Aren Heinze
Audrey Thirouin
Bryan Holler
Bryce T. Bolin
Colin Orion Chandler
Colin Snodgrass
Cyrielle Opitom
Daniel HESTROFFER
Darin Ragozzine
Darryl Seligman
Dave Monet
Dave Young
David Gerdes
David Trilling
Davide Farnocchia
Deborah Woods
Dennis Bodewits
Edward Lin
Eric Christensen
Gal Sarid
Gongjie Li
Grigori Fedorets
Gustavo Benedetti Rossi
Hal Levison
Henry Hsieh
James Robinson
Javier Licandro
Jean-Marc Petit
Josef Durech
Julien Peloton
Julio Ignacio Bueno de Camargo
Kat Volk
Laura Inno
Lynne Jones
Maitrayee Bose
Malena Rice
Mario Juric
Martin Banda
Martin Elvis
Masao Sako
Matija Cuk
Matt Payne
Matthew J. Holman
Meg Schwamb
Melissa Brucker
Michael Marsset
Michael S. P. Kelley
Michele Bannister
Miguel de Val-Borro
Mikael Granvik
Milagros Colazo
Nalin Samarasinha
Nicholas Moskovitz
Padma A. Yanamandra-Fisher
Peter Veres
Renu Malhotra
Robert Jedicke
Rodrigo Carlos Boufleur
Rosemary Dorsey
Sarah Greenstreet
Scott Sheppard
Siegfried Eggl
Stephen Ridgway
Steve Chesley
Susan Benecchi
Tansu Daylan
Tom Seccull
Wesley Fraser
Will Oldroyd
Youssef Moulane

If you are already a member and you don't appear in the above list, please contact the SSSC co-chairs.

SSSC Architects